RevenueVision®
You can only manage what you can see
SDG'S RevenueVision® is a cloud based contract and operational management system designed specifically for the administration and management of higher education contracts and self-operated facilities. 
"Never has there been greater pressure to deliver greater
financial performance with fewer resources."
Problem: Today, tuition alone cannot meet the financial realities of many higher education institutions. Today, all operations and auxiliaries in particular, are being asked to increase revenues and reduce expenses. Auxiliary revenue is no longer "auxiliary." Operations including dining, housing, bookstores, parking, plus other retail options can determine financial stability, and may be the vital lifeblood, of the school. 
But the tools for tracking and managing those operations - outmoded spreadsheets and decentralized systems - are woefully inadequate, out of date, scattered throughout an institution, and prone to human error. The result is often not only lack of critical and timely contract data, but reduced or even lost revenue.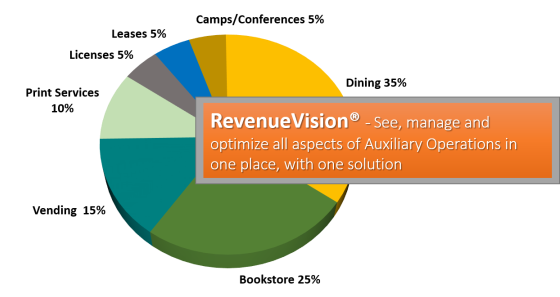 Solution: RevenueVision® does what spreadsheets and decentralized systems cannot do. Our software solution enables higher education institutions to manage contracts and optimize business operations more effectively than any tools previously available...at a time when auxiliary revenue is more critical to the financial well-being of colleges and universities than ever. 
Single source - centralize data, documents, contracts and deliverables
Powerful analytics - provide actionable intelligence, KPI's and trends
Data visualization - full graphics & dashboard capability
Key milestones - alerts on contract renewals & term changes for attention/action
Upload capability - easily, accurately import data from multiple & disparate systems
Validation & Verification - of data to insure accurate payments and collections
Cloud-based - minimal up front investment, lower cost of ownership
Rapid Implementation - 30-60 days, immediate ROI